Vermona introduces uniCYCLE Six-Waveform VCO Euro Module. A compact (10HP), high-performance, and stable oscillator uniCYCLE is the remodeled oscillator circuits from the company's flagship '14 Analog Synthesizer to conform Eurorack standards and to fit properly Eurorack small-format modular systems.
uniCYCLE voltage controlled oscillator generates sine, even, and a special sawtooth with doubled frequency for a total of six waveform outputs, besides classic sawtooth, triangle and square ones, of course.
Percussa founder Bert Schiettecatte shed some light on the specs of his Kickstarter project, which is fully funded, - Super Signal Processor Eurorack module which is to enter the market very shortly.
In the heart of Percussa Super Signal Processor (SSP) Eurorack Module there's a powerful quad-core ARM Cortex A17 processor, running a modified Linux kernel & custom DSP software, and professional audio I/O drivers.
50 years have passed since the original Continental (or simply "Connie") organ was produced by Vox, and now the brand turns their classics into an upgrade release giving the organ more sounds and boosting the performance qualities.
Vox Continental is actually based on multiple engines responsible for various groups of sounds which relates this instrument to Korg's Kronos: the organ section comprises 3 engines (Vox Transistor, Compact and CX-3), then there's EP-1 and SGX-2 for enhanced piano voices generating, AL-1 comes for delivering poly and solo synth sounds, and here goes HD-1 featuring PCM-based instruments.
The new front panel allows quick access to all the features while drawbars, EG, LFO, EQ and more settings can be adjusted with the multi-ribbon LED touch strip offered by the smart interface.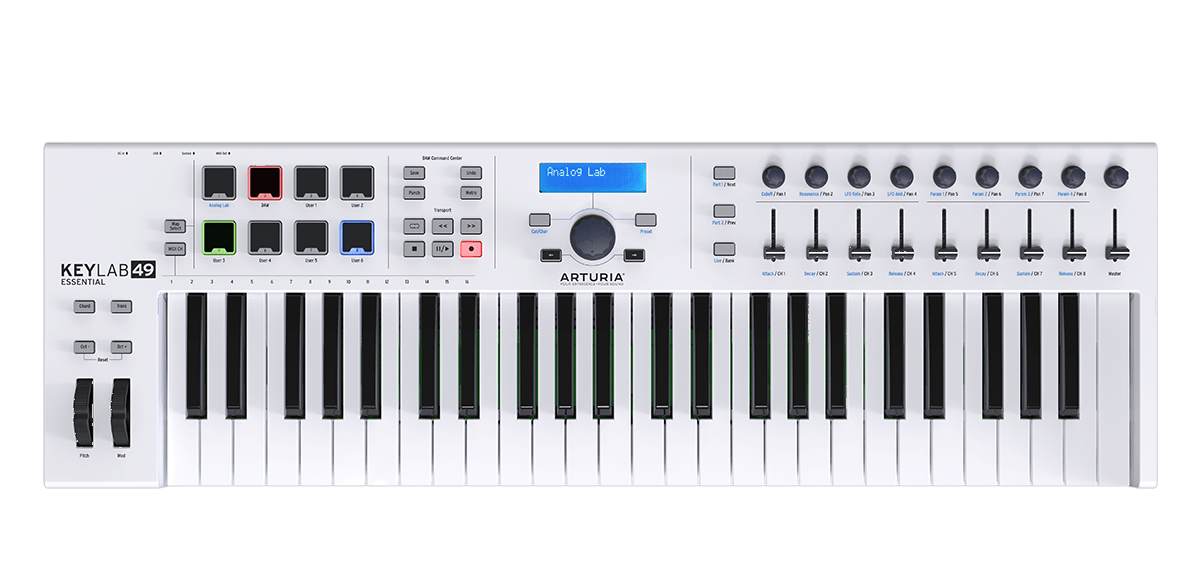 Arturia has announced the shipping of the brand's most recent controller keyboards announced earlier this year at Musikmesse - KeyLab Essential. Arturia assures you'll get everything which comes along the essence of a good controller - intuitive performance controls, DAW integration and Arturia's Analog Lab software.
A fully analog, 4-channel crossfader, scanner and 4-channel VCA for Eurorack modular synthesizers has been introduced by Blind Monk Modular, and it's called Quad.
You can create unique crossfading effects and complex stereo cross modulations thanks to stereo and mono modes as well as multi-operational core: Quad can function as a waveshaper at audio rates and as an additive synthesizer if combines audio rate signals and control voltage signals. Crossfading is possible between control voltages.
Bastl Instruments got a little crazy and we're so happy about that and truly thankful – meet the 60 Knobs device. You know it's kind of a device with 60 knobs. That's it. But ain't it great?
Sure, it's pre-mapped for Sonic Potions LXR digital Drum machine but as soon as it's an open ended MIDI unit you can bundle it with many machines and even manage quite rare protocols including NRPN and SysEx.
60 Knobs is a DIY kit but if you need those damn knobs it doesn't seem much of a problem.